Pondicherry
Hot Spots

Bharathi Memorial Museum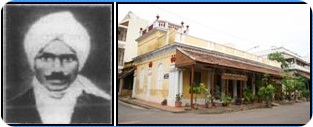 Mahakavi Subramania Bharathiar was one of the greatest Tamil poets, a prolific writer, philosopher and a great visionary of immense gen­ius. He was also one of the most prominent leaders of the Indian independence movement His national integration songs earned him the title "Desiya Kavi" (National Poet). His patriotic songs emphasize nationalism, unity of India, equality of men and the greatness of Tamil language.

Bharathiar was born on December 11, 1882 in Ettayapuram, which is now part of Thoothukudi District.At the age of 22, he became a Tamil Teacher at Sethupathi High School in Madurai and the same year he was appointed as Assistant Editor of a daily newspaper called "Swadesamitran". In 1906, he was editor of a weekly magazine called 'India".
By 1912, Bharathiar was already a legend in South India and his political meetings were attracting multitudes of young patriots, ready to join the non-violent movement for attaining freedom from the British rule. Bharathiar died on September 11, 1921, at the young age of 39. The legacy of the poet however endures forever. Mahakavi Subramania Bharathiar is honoured with a museum at Easwaran Dharmaraja Koil Street, a house where he spent the major creative period of his life. It was only here that he authored the most celebrated of his works — Panjali Sabatham, Kuyil Paattu & Kannan Paattu. Apart from housing all his published works, this museum also treasures the manuscripts of the poet as well as rare photographs.