GLIMPSE OF

PONDICHERRY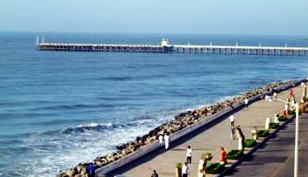 Region Profile
Pondicherry, now called as "Puduchery" is a well planned and well built town. This is a typical example as one can learn the way the French people gave importance to order and flair. They are known for their rich and quality living. The French too had an eye on the wealth and the fertility of India. Thus the French dream of Indian empire began and got over by establishing their supremacy in Pondicherry. The French constructed many buildings based on their craft and grand architecture. They developed an oval shaped, lovely 'boulevard town' – the French quarter. This French quarter was laid out in a geometric grid pattern with straight roads intersecting at right angles. A boulevard encircled the town and a grand canal, divided it into two sections- one the Tamil side called as Ville Noire or the black town and the other, a European side which was known as Ville Blanche or the white town. The impressive Ville Blanche or white town resembles a typical Medieval French township clotted with fine built monuments, government buildings, majestic mansions, elegant churches and lush green parks.
The Union Territory of Pondicherry comprises of 4 coastal regions viz- Pondicherry, Karaikal, Mahe and Yanam . Pondicherry and Karaikal are situated on the East Coasts in Tamil Nadu, Yanam in Andhra Pradesh and Mahe on the West Coast in Kerala.
Pondicherry is the Capital of this Union Territory. It is on the east coast about 162 kms south of Chennai (Madras ) located on the Coromandel Coast of the Bay of Bengal.
Pondicherry is a peaceful city. Pondicherry is referred by names such as 'Quintessence of French Culture', 'India's Little France' and 'The French Riviera of the East'. This territory was under the French rule for nearly 281 years. Still it has the French flavor in it as one can see by the grand colonial mansions, beautiful boulevards, and placid promenades, spellings on sign boards and buildings, names of roads and public places.

Geographical  Features 

Pondicherry region is located on the coromandal coast between 11 degree 46' and 12 degree 30' of north latitude and between 79 degree 36' and 79 degree 52' of east longitude. Its boundary on the east is the Bay of Bengal and on the other 3 sides is Cuddalore & Villupuram districts of Tamil Nadu State. the region as a whole is 290 sq. Kms with a total population of 9,74,000 according to the 2001 census.
This is not a contiguous area but interspersed with some parts of Cuddalore and Villupuram districts of Tamil Nadu state. It presents a picture of scattered parts enclosed within Cuddalore and Villupuram districts.
The lay out of Pondicherry region described above which is located within Tamil Nadu presents a peculiar picture of territorial jurisdiction, perhaps the only one of its kind in the world. The historical reasons, which prompted the French and the British to limit their territories in the intermingling manner, are not known. 

Languages and  Religion
Main languages spoken in the region are Tamil, Telugu and Malayalam. English and French are other languages, which are spoken by a considerable number of people. The fact that people speaking 55 different languages reside here and that Tamil, Telugu, Malayalam, French and English are the five official languages certainly raises eyebrows. In spite of this linguistic plethora, there is no confusion but absolute harmony.
Majorities of the people are Hindus. There are quite a number of Christians and Muslims, whereas very few Jains, Sikhs and Buddhists.

Climate and Weather
Climate: Tropical
Weather: Hot & Humid
Warmest months: March - September
Coolest months : November - February
Maximum temperature: 40°C (summer) & 24°C (winter)

Average rainfall : 1300 mm
Best season to visit : Between July and February

Statistics 
Population: 1.37 Million (2012-2016)
Area: 495 Sq.Kms
Literacy Rate: Fully Literate (90%)

Infrastructures
Physical:
RAILWAYS: 
Pondicherry connected with Villupuram junction by a broad gauge railway line (39Kms).
ROADS:
Total Road Length: 2552 kms
Road Length per 1000Sq.Km.
Pondicherry: 4575   
Tamil Nadu: 1572  
India: 663
Total number of Motor Vehicles: 672803 (2011)

Telecommunications
Number of Telephone Lines: 92730
Number of telephone exchanges: 31

Lines per 1000 persons
Pondicherry: 48.7
 India: 18.1

POWER
Power Requirement: 175MW
Power Availability: 229MW
Power Generation
32.50MW Gas based power project has been commissioned
Per Capita Electricity Consumption
Pondicherry: 1161 KWH
India: 320.1 KWH
Percentage of Transmission & Distribution Loss
Pondicherry : 13.79%
India: 21.1%
Power Tariff
L.T supply
Up to 300 units Rs3.50/unit
Above 300 units Rs 4.60/unit
H.T. supply – up to 2000 KVA
Rs 200/KVA - Demand charges
Rs 4.35/KWH- Up to 1 lakh Units
Rs4.50/KWH - above 1 lakh units

PORT
Major Port
Accessible to Major ports like Chennai, Tuticorin, Cochin and Vishagapattinam.
Minor Port
Pondicherry port being modernised
AIRPORTS
Domestic: A Medium size airport available
International: Chennai; 2 hours drive

Social
Education
Schools: 863
University: 1
No. of Post Graduate and Graduate Colleges: 8
No. of Professional colleges: 18
No.of students, passing out every year in the above courses: 2095
RENOWNED EDUCATIONAL INSTITUTIONS
Pondicherry Central University 
Pondicherry Engineering College
Jawaharlal Nehru Institute of Post Graduate Medical Education & Research (JIPMER)
Mahatma Gandhi Dental College
Rajiv Gandhi College of Veterinary and Animal Sciences
Dr. Ambedkar Govt. Law College
Dr. Ambedkar Govt. Law College
Pandit Jawaharral Nehru College Of Agriculture And Research Institute 
Pondicherry Institute of Hospitality Crafts
Govt. Polytechnic in all regions 
Alliance Francaise

BANKING
Total No. of Branches: 84
Credit: Rs.56991 lakhs (2001)
Deposit: Rs.176279 lakhs (2001)
Per Capita Deposit: Rs.18098 (2001)
Per Capita credit: Rs. 5851 (2001)

Health Care
Total No. of hospitals (including Private): 20
Primary Health Centres: 43
E.S.I. Dispensaries: 12
No. of Doctors in Pondicherry: 475
No. of doctors per 100000 persons
Pondicherry: 59
India: 45

Economy
Net State Domestic Product: 327670 lakhs (2001)
Per captia Income
Pondicherry: Rs. 33910
India: Rs.10771