KNOW  YOUR 

PONDICHERRY

Reaching  Pondicherry  

The closest airport is in Chennai, which is around 160 kms from puducherry (approx. 3 ½ hrs. journey).    Chennai has excellent connections with almost all cities in India and direct connection to Europe, USA,    Middle    East and South East Asia. Trichy airport is 320 kms away. Bangalore (320 kms) and Madurai are the other nearby    airports.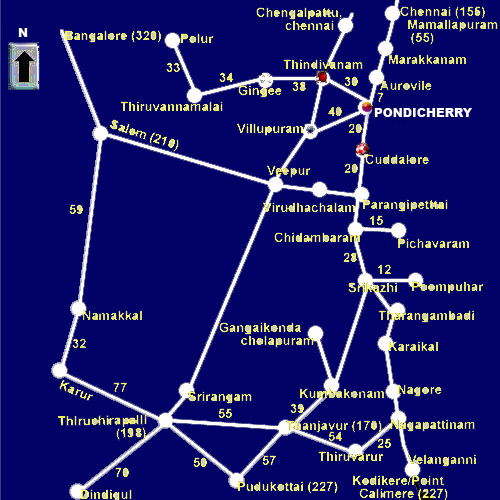 Though Puducherry is on the rail map,journey by train to and from Puducherry is not very popular. Villupuram is    the nearest junction, it is fairly well connected to places like Chennai, Madurai and Trichy.

Puducherry is well connected to all districts and major towns of various states like Tamilnadu, Karnataka, Kerala    and Andhra Pradesh. Puducherry is best accessible by road, either by bus or by taxi. There are frequent buses,    almost every 15 minutes in the day from Chennai's new bus stand in Koyembedu.



The express buses takes 3 ½ hours to reach Puducherry. Preferably take the buses coming by the East  coast    Road via Mahabalipuram, instead of the National Highway(via Tindivanam), as the ECR is far more scenic with    shimmering sea to give you company most of the way.

There are frequent buses to Puducherry from places like Chidambaram, Thanjavur, Trichy and Coimbatore.         Especially private luxury buses are connecting Puducherry with other major cities in Tamil Nadu and  Bangalore.