Immigration Rules &

Regulations
 The following information and guidelines are provided by the Department of Immigration, Government of India for all those foreigners who visit India.

Regional Office Address: Department of Immigration, PHB Complex, Anna Nagar, Puducherry - 605 005

Regional Registration Officer Contact number: +91-413-220 1605

The Regional Registration Office, Puducherry has its jurisdiction in Puducherry region of Union Territory of Puducherry, Auroville in Vanur Taluk of Villupuram District in Tamilnadu.

Foreigners who arrive on tourist visa are not eligible for registration and extension of stay in India beyond their stipulated visa period.

The foreigners who have more than 180 days visa for stay in Puducherry region and Auroville should register their names within 14 days from the date of arrival in India with this Office and obtain their RC/RPs.

Applications for an extension of the period of the residential permit (RP) must be made atleast 90 days before expiry of the permit. Late registration and over stay invites penal fee.

The foreigners should produce his/her valid passport, 4 photographs, indemnity bond, residence proof etc.,for registration.

The foreigners who want to extend thie stay at Auroville/Ashram should obtain the recommendation letter from Auroville Secretary / Managing Trustee,Ashram.

The students should produce admission certificate from the respective Institutions counter signed by the Head of the Institution.

Stay beyond permitted period / visa validity without permission is liable to attract prosecution for contravention of the provision of Foreigners Act 1946 punishable with imprisonment for a period of 5 years and with fine and will also be liable for expulsion from India.

Change of Visa purpose not permitted.

Transaction Hours (Monday to Friday):  
  


Reception : 09.30 am to 01.00 noon


Visa fee collection : 09.30 am to 11.30 am


Documents issue : 04.00 pm to 05.00 pm

India Tourist Visa Fee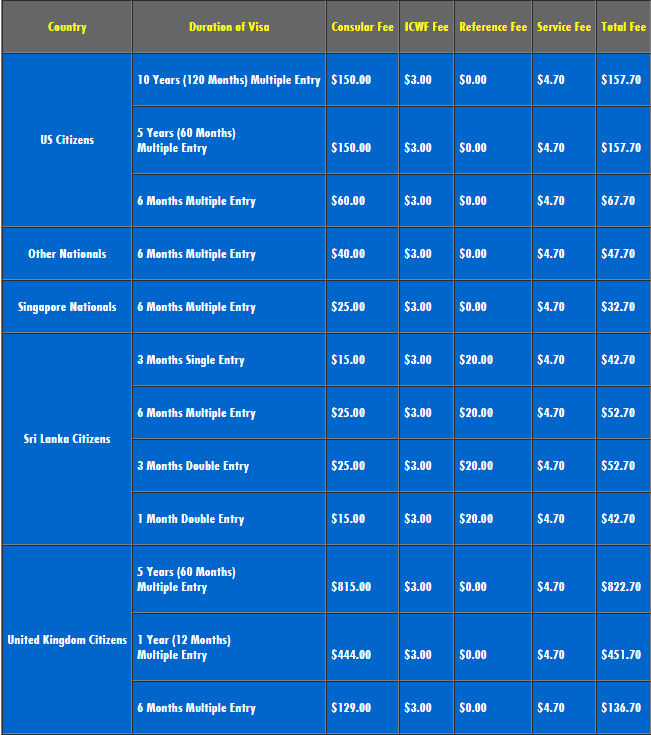 Greencard holders and those who have a long term visa (3 years or more) will not be charged the reference fee.

For Mahe, Yanam contact : Foreign Registration Officer (FRO),
IG Office Complex, Beach Road, Puducherry - 605 001



For Karaikal : Foreign Registration Officer, Karaikal

PASSPORT OFFICE

Public Relation Officer, Animal Husbandry Complex,
Maraimalai Adigal salai, Puducherry.
Phone : 220 5481 / 220 3438